Nobody has stories figured out yet.
It might seem like everyone has a plan, but the social media story format is so fresh, most brands are still trying to wrap their heads around how it benefits their business in the long run.
You're not alone. But other brands are utilizing Instagram stories ideas to catapult to fame and cement business longevity.
Do you want to know the simple tricks to gaining Instagram story success?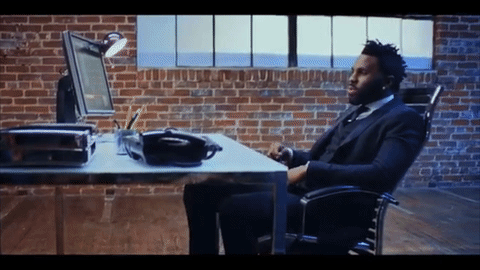 The rumors are true…
Instagram stories is a modern marketer's dream – you have the opportunity to share raw, real-time content on an international and unlimited scale.
Why not drastically increase your brand discoverability, cultivate a highly targeted audience, and strategically funnel traffic using clever and engaging CTAs?
Anyone can redefine and accelerate success through easy and innovative Instagram stories ideas. Let's get straight to the leading industry secrets.
Here are 20 Instagram stories that are guaranteed to amplify your business:
1. Start off with humor
Need an easy, sure-fire way to attract viewers to your page? Use humorous quotes, GIFs videos, and memes. Most of us browse the internet looking for entertainment. Add a flair of laughter into your stories to ensure your audience keeps coming back.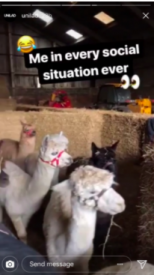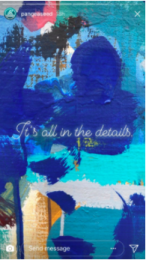 2. Use colors to create emotion
Did you know you can use colors to your advantage? Seriously, you can use color to target your key audience. Bright red stories will leave your viewers feeling passionate, cautious, or with a sense of urgency. Green hues send natural and prosperous vibes, while blue is extremely trustworthy, calming, and inviting. Try it out for yourself and see how your viewers respond.
3.Use a custom hashtag
If you really want to hack your Instagram stories and double your exposure, create a unique brand hashtag. You can use your unique hashtags to categorize your specific content and promote sales, blogs, email lists, or anything else you can imagine to elevate your brand.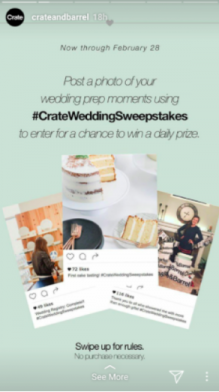 4. Add eye-catching filters
Filters are in. Period. Using the newest and trendiest filters in your Instagram stories adds a fun and instant upgrade to your social media marketing game. You can add on hashtags, links, and custom text to further engage your audience and drive traffic.
5. Advertise jobs
Perhaps you have a new job advertisement, and you're looking for top tier talent? There's a good chance you will find your next superstar employee perusing social media. Get creative, use aesthetically pleasing images and videos to stand out and attract the right candidates you need, and the resumes will come flooding in.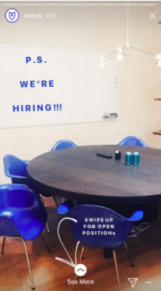 6. Show off your milestones and accomplishments
Brands who quickly gain large followings, more often than not, have created a highly personalized relationship with their followers. Your viewers are already invested in you… they want to know what your personal struggles and accomplishments are. So, don't be afraid to humble brag a little bit! Also, don't hesitate to show your vulnerability every once in awhile. Your followers are guaranteed to respond positively.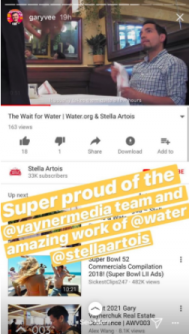 7. Use polls for feedback
Polls are quickly becoming one of the most popular Instagram story ideas... and for good reason—you gain incredible insight on what your followers are interested in. Think of it as instant customer feedback that gives your marketing skills a serious edge. Have you tried it yet? Everyone is doing it!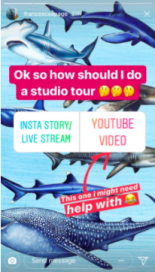 8. Share your point of view
If you want to connect with your audience and potential customers in a highly effective way, definitely share your life from your personal point of view. Sharing everyday stories as your authentic self adds a special touch to your business, which was rarely possible before stories existed. This simple tactic adds incredible value to your social media outreach… so don't skip this idea!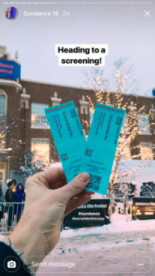 9. Share motivational tips
Instagram heavyweights strategically throw motivational quotes into their story game on a weekly basis (and often daily). Why? Simply because it inspires and resonates with the masses. Sharing quotes, tips, and insights that relate to your business niche and your viewers will create a positive dynamic that encourages viewers to return—and feel good about it.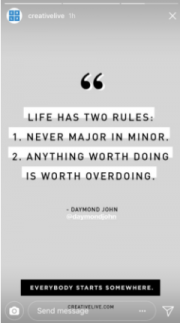 10. Shout out other brands
It's no secret… we all love attention. Shouting out other brands you are affiliated with, look up to, or want a future business deal with is always good karma. Tag and use hashtags so other users notice your brand tailored posts- you just might receive a shoutout in return.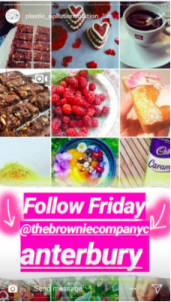 11. Drive traffic to your website
If you are serious about funneling sales, use Instagram stories to drive your audience exactly where you want them to go. No gimmicks or tricks involved—boldly tell your viewers to swipe up for the hottest deals and unbeatable offers. They will follow your lead.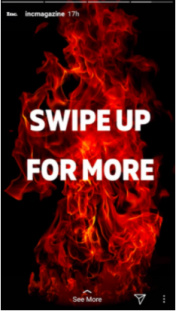 12. Showcase snippets of new products
Want to know one of the most underrated Instagram story ideas? Creating suspense with a specific CTA. The beauty of this idea is anyone can do it, no matter what product or service you are selling. People love suspense and mystique, so you might as well use it to your advantage. Showcase a small sample of what your brand offers—and make sure they swipe up or click a link to follow through to find out exactly what you have that is new and exciting.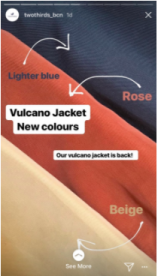 13. Promote an event
Do you have an upcoming event and want to spread the word? Use Instagram stories, of course! Not only will you reach a wider audience, you will be speaking to your core consumers directly, while offering them a direct action from a personal platform. This modern advertisement is much more effective than e-mail spams and annoying ad banners, we promise!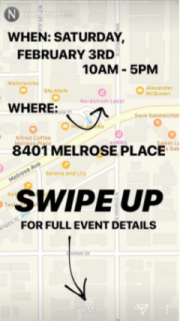 14. Cross-promote your platforms
If your marketing strategy is focused on multi-platform growth, use Instagram stories to drive traffic with enticing graphics and links. Bonus points if your website and social medias offer variations of your main selling points—your audience will always receive fresh content, and they will want to stay subscribed to all platforms for updated content.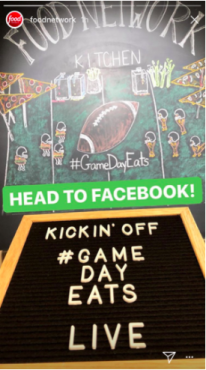 15. Build a story series
One of the most coveted tricks for optimizing Instagram story ideas is to drive your message through a series of stories. Often, we can't communicate everything we need to in one frame. The solution? Sequential stories that drives home your main selling point, while keeping your audience intrigued and clicking through.


16. Promote exclusive deals
Everyone wants to feel special, like they are part of an exclusive club. One of the great perks of Instagram stories is your followers are part of an exclusive club—your brand. Offer social media specific discounts and specials for your loyal followers. Not only will your viewership increase, your sales will benefit greatly as well.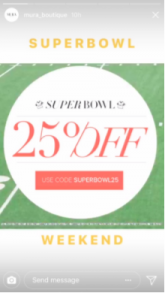 17. Add suspense for new content
Have a new product launching, and you're testing the waters? What better way to drum up free publicity than show a sneak peek through Instagram stories. This strategy is another simple, yet highly personalized touch that offers the audience an exclusive preview for what's to come… and they will keep watching for future updates.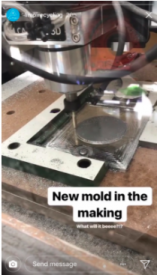 18. Flash giveaways to grow followers
One of the oldest, yet most effective Instagram story ideas for growing a massive following is offering giveaways. Trust us—the investment is worth the massive gain in followers and future sales. Offering a giveaway through links, follows, and tags encourages a more engaged and active audience. Plus, your followers act as your marketing agent. It's a win-win for everyone!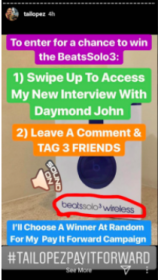 19. Send a personal message to loyal consumers
Sometimes, a good deed pays off massive dividends. Send personal messages to your followers every so often…or even better… once a week. If viewers feel as if you care about their likes and comments, you encourage a community of positive reinforcement and continuous brand engagement.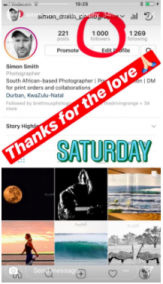 20. Share behind the scenes of your daily life
If you ever wished for a behind-the-scenes special, Instagram stories is your chance in the spotlight. You can show your dedicated viewers how you go about your daily business. This is the social media content global audiences really eat up. At the end of the day, consumers want to know the story behind the business—and personalized stories are best and most underutilized platform to do so.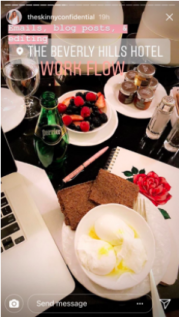 So… what are you waiting for?
Don't just take our word for it…It's up to you now. Try these Instagram stories ideas for yourself and watch your business flourish!