AMP (Accelerated Mobile Page) Stories are Stories for the web.
We all know Stories – the fastest growing format of all time. Stories are a hit on social and have already been adopted by Snapchat, Facebook, and Instagram. AMP Stories are Google's initiative to bring Stories to the open web and leverage the Stories format as a way to consume information and media on sites.
You've probably come across them without even realizing it! Anytime you see a Story on a website, it's likely an AMP Story. If you see it in search, it'll appear under "Stories" area around the top as well. You can try it for yourself, open Google, and search "CNN" or "Washington Post". They look like this: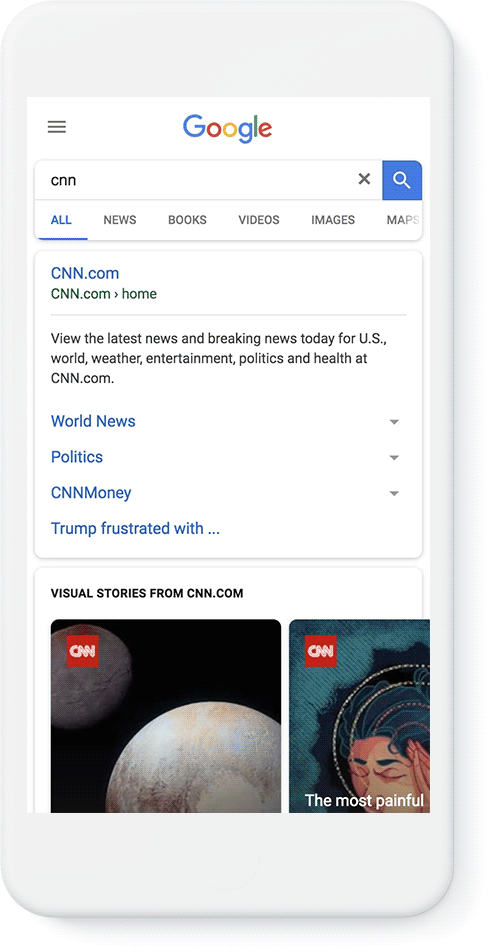 AMP Stories are built with the same technology as AMP pages, meaning they'll load very quickly on mobile. They're also the smartest way to create Stories for web.
Key benefits include:
Perfect for mobile – 63% of internet users are mobile. These stories are built to run very smoothly on most mobile devices.
Extremely engaging – these stories visually fill the readers screen which keep all eyes on the content. Also, the "tappable" interaction between the story and the user allow for a more immersive experience with the content.
Super-fast – these stories are built from AMP templates, which are built to load very fast and run smoothly.
Improved Conversions – research shows that AMP stories make a user tap and convert more because they are more interested and engaged with the content
New Revenue Stream – while maintaining cleanliness, you can still put ads in your amp stories, which opens a whole new opportunity for revenue
What can you do with AMP Stories?
AMP stories are growing fast and new ways to use them are popping up all the time. Here are just a few of the ways to start using AMP stories today.
Embed them directly on your website
Share them as a link on any network
Create Stories with Ads and leverage ads from Facebook, Instagram, and soon Google!
Start converting stories
Embed them in emails or other communications
Why Do You Need To Start Thinking About AMP Now:
Content that is fast and smooth wins, today it's more important than ever to use AMP stories to stand out.